You should never feel bad about modifying a workout! If the anticipation of having to modify a workout or movement is keeping you from the gym. Let's step back and take a look at the bigger picture!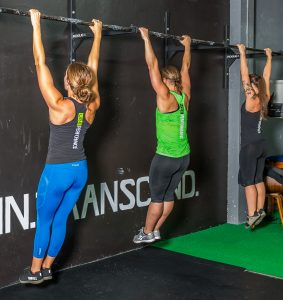 When the ultimate plan is to get stronger, we all have to start somewhere! And to start now, you have to start with the exercise that you CAN do now…and I promise you will progress from there. You can't get to that desired movement by avoiding it altogether.
UBE strives for your success, and we will work with you to modify ANY workout or movement for you! Sometimes getting back to the basics is what's best anyway. Correctly executing a modified version of an exercise can lead you to perfect form when you advance to the next level! This will leave the "sloppy" form behind and also prevent potential injury. But…if an injury does happen, don't worry, we can help with that too!
Don't let an injury hold you back!
UBE is well-versed in modifying movements to avoid aggravating your injury and alternatively implementing exercises to strengthen muscles to promote healing of your injury. Having Physical Therapists close by in our gym lets us bounce off some ideas to make sure we are providing you information to best benefit you.
So don't let being afraid or embarrassed by modification keep you from coming to the gym! Modification is a key component in some strength programs. Long story short…that push up is within your reach!